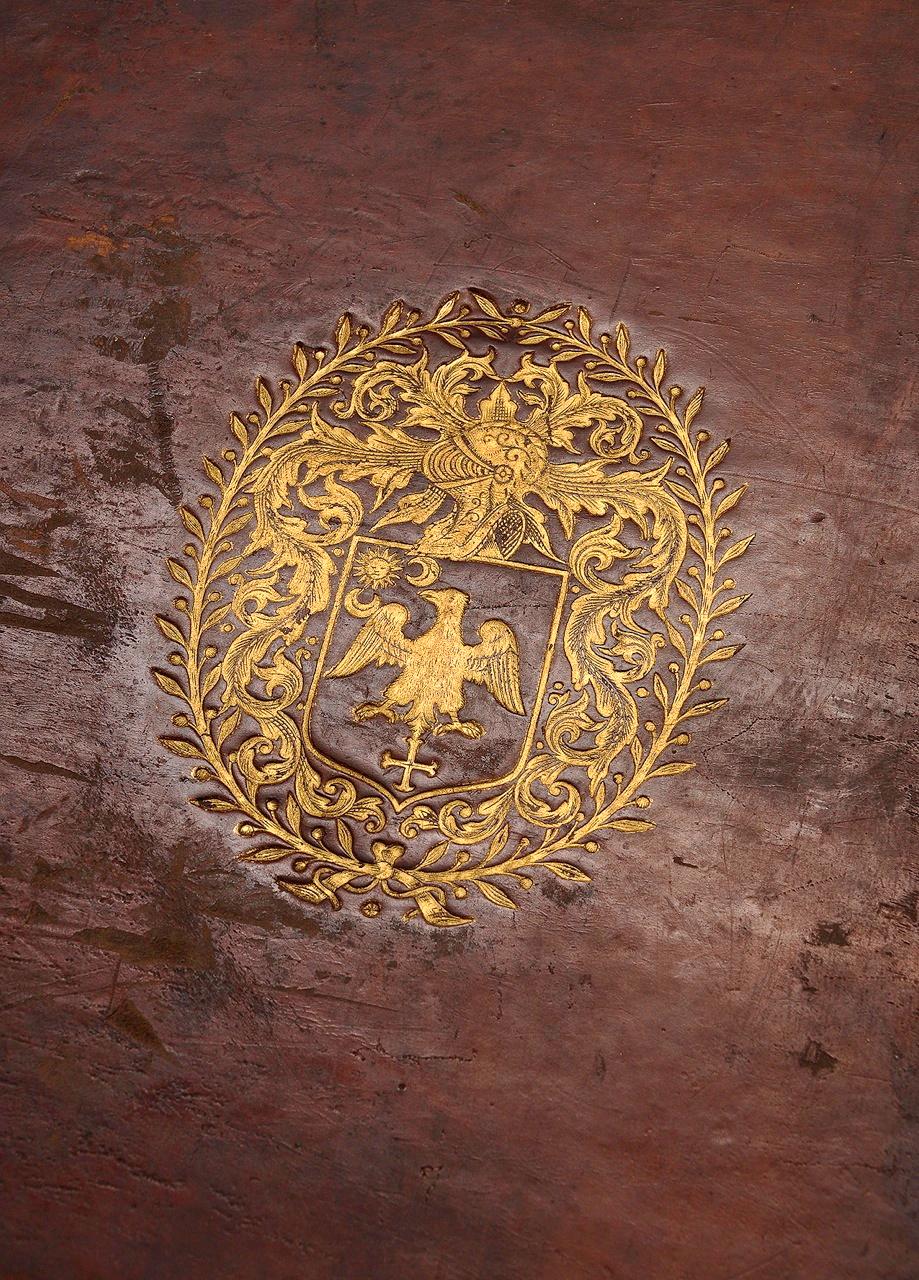 Query:
These arms have so far resisted identification. Your assistance is requested. Thanks so much in advance!
Created:
2015-07-07 (last changed: 2018-04-25 ) by
bibliograph
Description:
The book is a Large Paper copy of Lucian of Samosata's Opera in Greek and Latin (Paris, Julian Bertault, 1615). This was the Sunderland copy (Sotheby's, Bibliotheca Sunderlandiana, 3rd Portion, 26 July 1882 lot 7657, to Grevel for £3.15.0) The arms are mentioned in the catalogue but were not identified. The arms could be described thusly: "une aigle au vol abaisse, surmontant une croix ancree, fixant au canton dextre un soleil accostee de deux croissants affrontes."

This armorial device was recorded - but not identified - by E. Olivier, G. Hermal & R. de Roton, in their still-unsurpassed "Manuel de l'amateur de reliures armoriées francaises" (10e serie. Meubles) planche 1083, nos. 1 and 2, in which are referenced two books in the Bibliotheque Sainte-Genevieve, Paris (see also Galipote's note below).

4/24/18: another binding with the same arms has been found in the Queens' College Library Cambridge, on: Rerum Moscoviticarum auctores varii. Frankfurt am Main, Andreae Wecheli Heredes [et al], 1600 [shelf-mark G.2.26], likewise a folio (34 cm tall, i.e. smaller than the present binding). I owe my knowledge of this binding to Lucille Munoz.
Bibliographic Details:
Lucian of Samosata, Opera Omnia (in Latin and Greek). Paris, Julian Bertault, 1615. Large Paper copy (42 cm tall). Contemporary French red morocco, all edges gilt. The watermarks of the endpapers are of Nicolas Le Be, of Troy.
Holding Institution:
Private Collection, U.S.A.