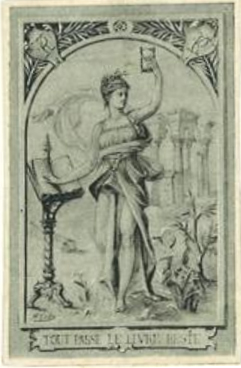 Query:
Please put a name to KP, owner of this French/Belgian exlibris
Created:
2018-02-16 (last changed: 2018-02-16 ) by
TheBookplateSociety
Description:
A classical lady rests one hand on an open book on a lecturn. In her left hand she holds up an hourglass. Plants in foreground at her feet and a backdrop of ruins. Monogram KP at top corners. Signature appears to be M Gaty or H Gaby, but neither is found in Wiggishoff's 1915 listing of French exlibris artists.
Bibliographic Details:
Robert Wylie Lloyd (1868-1958) bequeathed to the British Museum a collection of 5,000 Swiss prints produced between 1750 and 1850. Amongst the books and albums are 27 different bookplates, some remaining to be identified. A researcher has written about this in the Autumn 2017 issue of The Bookplate Journal.
Holding Institution:
BM